Billing is setup on the service level so in order to change how something bills we first need to go into Settings > Services > Services & WTD
From here you then want to go into the service drop down and edit the specific Work To Do that you need to adjust billing for. It will look like this:

Once in the WTD's there are 3 different Billing Types:
Non-Billable: Used for scheduling purposes only (Doesn't create invoice)
Time and Materials: Allows you to use crew times to charge for labor
Flat Rate: Charges the customer at a Flat Rate for the services (Typically no additional labor charge)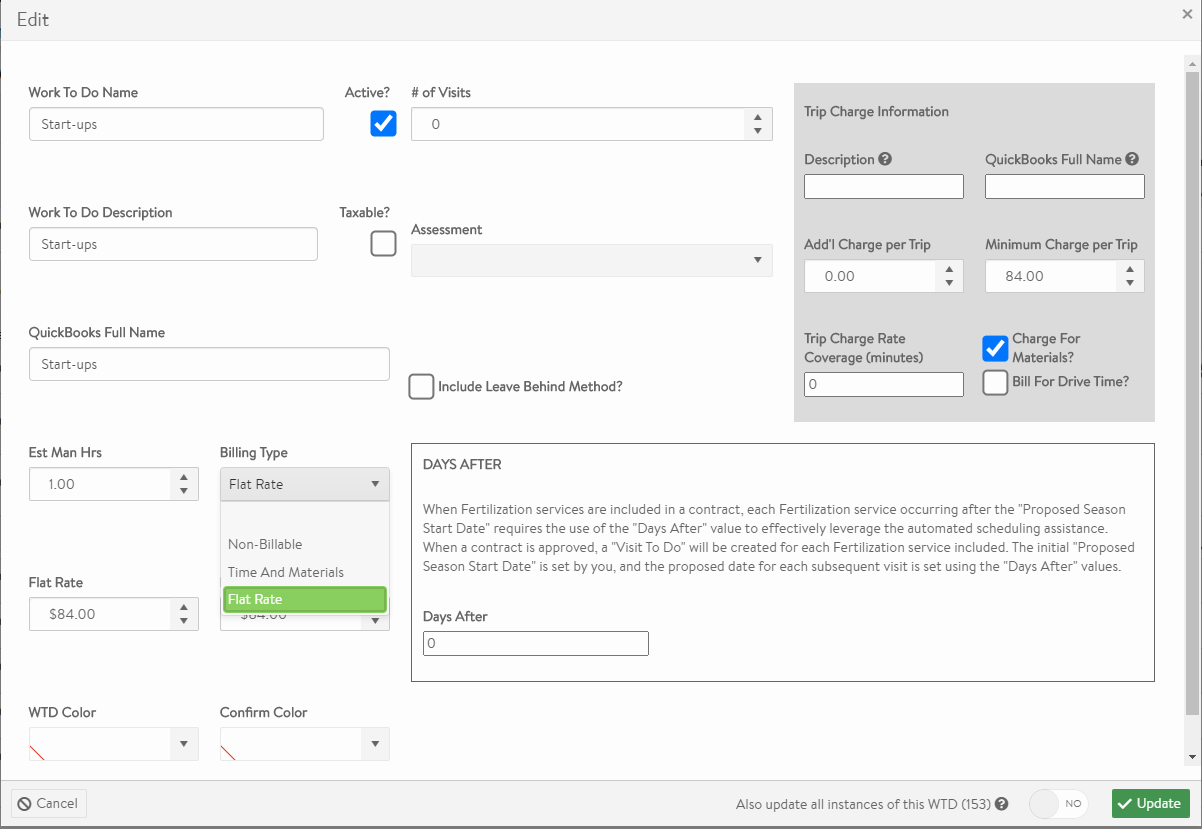 There's also a section for what's known as a Trip Charge. This allows you to set a specific price for a set amount of time and if the technician goes over that time it will then switch over to bill for additional labor. (Ex: Charge $80 for the first 60 mins, anything over uses what in the Rate by Hr. box) The Add'l Charge per Trip is the box you want to use in order to setup a trip charge.

The Minimum Charge per Trip allows you to set a minimum for what should be billed for that service.

If you want to be able to charge for Materials on the Visit you also have to check off the Charge for Materials? box in this section as well.

That's how you setup the billing on the service level but you can also set a specific price for each property. To do this go to Accounts > Property Search and go into one of the property pages. On the left hand side you'll see a Pricing tab where you can set the Trip charge dollar/minutes as well as the Rate Type and visit price.
(In order to add these you just have to hit the edit button in the top right and enter in the correct prices for that property)