What is Pronto Pay?
ProntoPay will allow you to capture credit card through Stax and pay for services, open invoices, or to apply a payment automatically from within your HindSite Solution.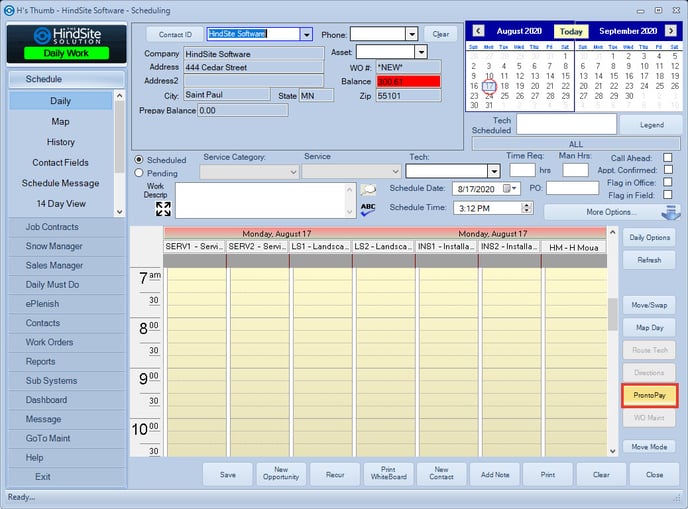 How to set up ProntoPay Step 1: Stax
To utilize the ProntoPay feature, you must sign up for Stax services. If you have not yet done so or would like more information, please click the here for more information.
Step 2: Set up the API key & link to HindSite Solution
**This is usually done with the help of a HindSite support staff or a Stax staff. If you're in need of assistance, please call 888-752-5978**
After signing up with Stax services, we will create your API key and link them to your HindSite Solution program.
Go to APPS > API Keys > Launch


**It will display a $99 monthly subscription for the usage. This fee is waived for HindSite Solution users.**


Here you can create a new key which will then allow us to apply this to your HindSite Solution Stax settings.


Once you've got the key, please open up your HindSite Solution program and navigate to GoTo Maint > Utilities > Application Setup > 3rd Party Apps.


Copy & Paste your API Key and Web Token into the designated fields.




**To fully view the image above, please right-click onto the image and select "Open image in new tab"**

Click Save to finalize the changes.
This will complete the set up of linking your Stax services to your HindSite Solution program.
Using ProntoPay
To use ProntoPay, the user logged in must have the option "Allow to add Credit Cards". To have this enabled, please speak to your Office Manager or to whom it may concern.
Choose your desired customer and click the ProntoPay button to the right-hand side.



From here, you are given 4 different options.
a. Charge a credit card one time - This option is used as a one-time charge applicable to a credit card. It will not allow you to save the card being charged.
b. ProntoPay - Charge the card on file (ending in ####) - This option is used to charge the current saved card within HindSite.

**Only 1 card can be saved per customer account within HindSite**


c. Pronto Pay - Save card for future processing with the option to Automatically bill from this card OR Do not bill this card automatically. This option allows us to save the card. There will be a $1.00 Authorization Fee that will NOT be charged to the customer. The fee is simply there as a placeholder to allow us to save the card.

**Please also know that if you're planning on using this to track monthly maintenance fees, you can either set up "Memorized transactions" in Quickbooks to create the invoice OR you can set up "Maintenance Billing" within HindSite to create the invoice.**


d. ProntoPay - Edit card for automatic processing (ending in 1111) to change the current card on file to automatically bill OR to Not bill this card automatically.

**The option to automatically bill from this card is used to charge the cards for any invoices coming from your HindSite Solution software to your QuickBooks accounting software. PLEASE BE AWARE THAT PRICES ARE TO BE ADJUSTED WITHIN HINDSITE BEFORE SENDING WORK ORDERS TO INVOICING.**



Upon selecting the option to Charge a credit card one time OR to ProtoPay - Charge the card on file (ending in ####) your HindSite Solution software will being to try and communicate with your QuickBooks accounting software.

Charge a credit card one time - from here, you will have the option to enter the First and Last name of the customer's credit card. These will automatically fill dependent on the First and Last name of the current contact. This can be edited and changed before saving.

From here, you will also enter the 12-digit credit card number, the security CVV number, expiration date, zip code, and a phone number for whom the card belongs to.

If there is an existing open invoice found in QuickBooks for the customer, it will give you a drop-down menu that will allow you to direct the payment to the open invoice.

After entering in the Amount, you may also choose to select the QB Payment Type from the drop-down menu as well.

**Please note that the QB Payment Type dropdown menu will only show and display your payment methods when properly pulled from your QuickBooks Desktop. To find this option, please navigate to Go To Maint > Maintenance > Payment Methods. From here, click the QuickBooks button to the top-right-hand corner to pull over all your payment methods from QuickBooks.**

Click Save to apply the payment and store the credit card within your HindSite Solution.


To review your payments, you can log into your Omni.Stax account here. Down below is an example of where your payments will show and display.



Once payments through Omni.Stax has been applied, we can then send our payments from HindSite Solution to QuickBooks to track the payments.

a. Daily Must Do > Send WO to Invoicing
b. We can Run the billing report to see what invoices are to be sent from HindSite Solution to QuickBooks.
c. After making the proper adjustments to each invoices to be sent, we can click the Send button.


**A

ny payments from ProntoPay will also be sent alongside invoices to QuickBooks at this point of time.**